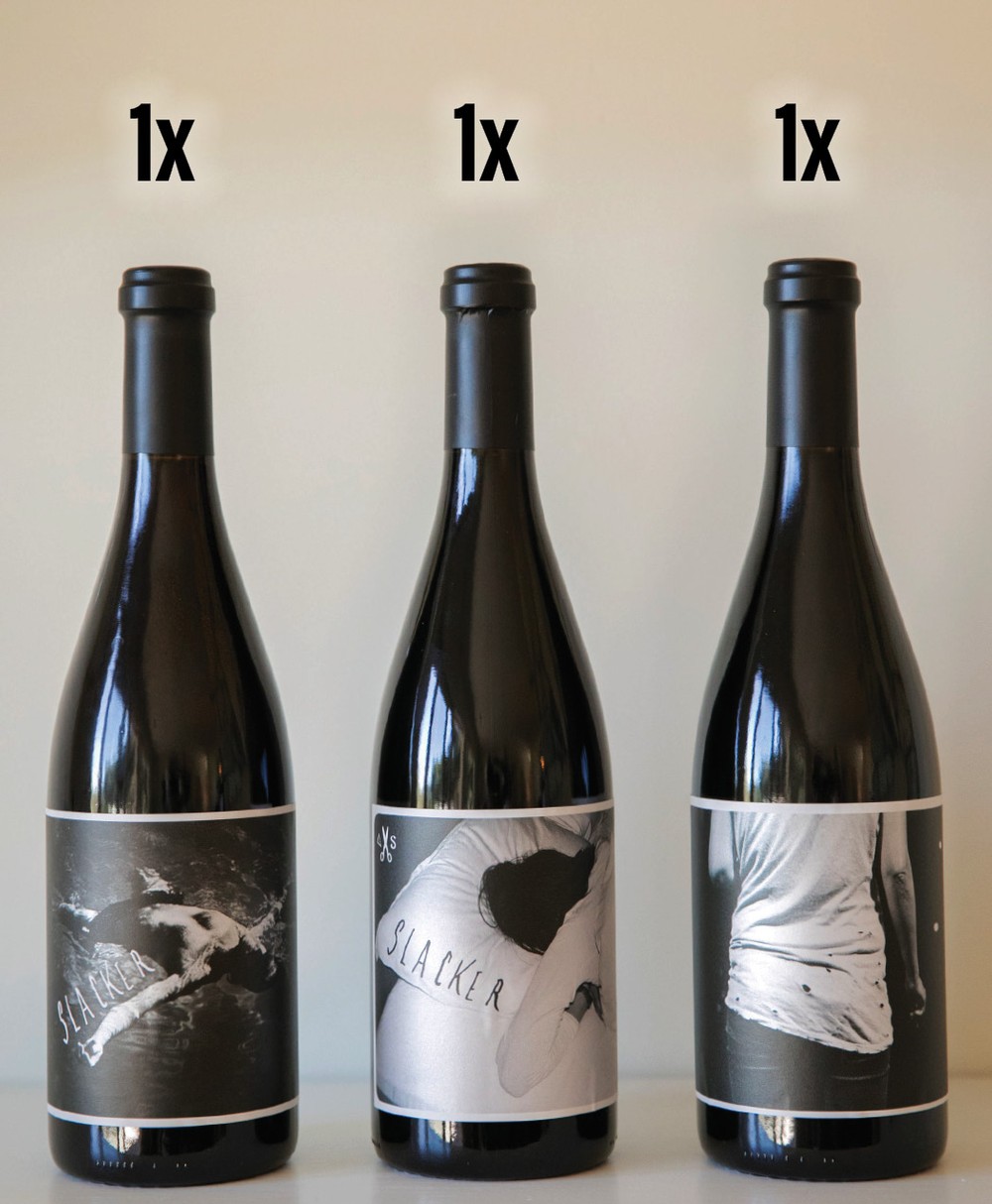 V.
Slacker Sampler
Taste the full collection, one bottle each of the new 2018 vintage release. Want to learn more about the wines, reach out to use to set up a virtual tasting of the wines.


2018 Self Esteem
Red Wine of Grenache
Paso Robles, Willow Creek District
15.2% abv
Candied strawberries and roses jump out of the glass, sending signals to your brain that you may in fact be relaxing on a beach in the summer at this very moment. This brilliant ruby wine showcases the beauty and uplift of dry farmed Grenache treated with care. Lingering finish of dried raspberries and demerara sugar keep hold as you salivate for the next sip. Ready to drink now, begging to be drunk this summer, and happy to hold for another five years.


2018 Stereotype
57% Grenache, 27% Syrah, 16% Graciano
Paso Robles, Willow Creek District
15.4% abv
A perfect balance of the airy bright red fruit quality of Grenache, grounded by the structure and depth of Syrah, and countered by the iron minerality of Graciano. These three varietals create a wine that shows both power and elegance with notes of tomato leaf, creme brulee, and raspberry cordial, with hints of hydrangea on the nose. Ready to be enjoyed immediately but with all the qualities to age for the next four to six years.



2018 Wanna Be
75% Zinfandel, 17% Graciano, 8% Syrah
Paso Robles, Willow Creek District
15.5% abv
Classic zinfandel flavors of dark plums and black cherries with chocolate and caramel undertones. A smooth, well rounded mouthfeel and velvet texture makes it a wine that is maybe a little too easy to enjoy. Pausing to breath in the aromatics, one can find layers of violet and jasmine, blood orange peel and the slightly singed edges of freshly baked chocolate chip cookies. Good luck not drinking it all immediately, but feel free to keep it around for the next three to five years.
Bottle Club
Join The Experience
An encounter allotted to the few. As a member of the Experience at Linne Calodo, you gain access to a select group, a society invited to taste and discover that which others never will.
Are You Experienced?